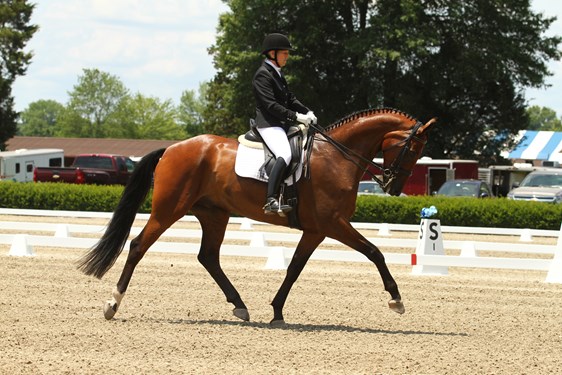 Susan Graham White Dressage Clinic

11/13/2019
Organizer:

Pat Mansfield

pwmansfiel@aol.com

Tune-up your dressage skills with one of the top dressage trainers in the area! The lovely A Bit Better Farm boasts a 72′ x 150′ indoor arena with great footing and a lot of mirrors!
Susan Graham White is a leading dressage competitor, trainer, teacher, and judge. An active competitor, Susan shows several dressage horses at the national and the FEI levels.
She has successfully coached her eventing students through Advanced, and her dressage students through the FEI levels. Most of her students are serious competitive riders, both professional and amateur. Susan is in great demand as a clinician, thanks to her track record of steering riders toward their full potential. When she is not teaching and training at Wolfhaven Farm in southern Maryland, she travels extensively throughout the country. She also teaches regularly in Puerto Rico, where she literally introduced the concept of dressage to her students. Starting there from scratch, she developed an enthusiastic group of budding dressage riders.
Susan is an FEI "I" Eventing judge, a USEF "R" Dressage judge and a USEF "r" Dressage Sport Horse Breeding judge. She has officiated at more than 200 USEF/USEA recognized competitions, plus more than 50 international events, including the 2010 Central American Games, the 2009 Championships for 6-year-old Event Horses at Le Lion d'Angers in France, the 2006 and 2007 North American Young Riders Championships and Scotland's Blair International in 2006.
As part of her commitment to giving back to the sport, Susan heads the USEA Future Event Horse Committee. She has also been a member of the USDF Freestyle committee, and has served on the board of directors for the Potomac Valley Dressage Association.
Organizer Notes
REFUND POLICY: Once the schedule is set (approximately 1 week prior to the clinic), riders own their lesson slot and are responsible for either paying for their slot or finding a replacement rider.
1 Day Clinic
Instructor: Susan Graham White
$100.00
Tests/Experience
1 Day Clinic Levels
Training Level Dressage
1st Level Dressage
2nd Level Dressage
3rd Level Dressage
4th Level Dressage
FEI Dressage
Administrative Information
Ride Time: Organizer will e-mail ride times a week prior to clinic. Ride times will also be posted to www.abitbetterfarm.com.
Trailer Direction:

Enter through the main gate (code 3400). Park in large front parking lot, OR drive around indoor arena and park along gravel path.

Change Policy:

Changes are permitted before registration closes.

Refund Policy:

Refunds are permitted before registration closes.

Entry Option(s) Reserve Spot Via STRIDER, Mail Check