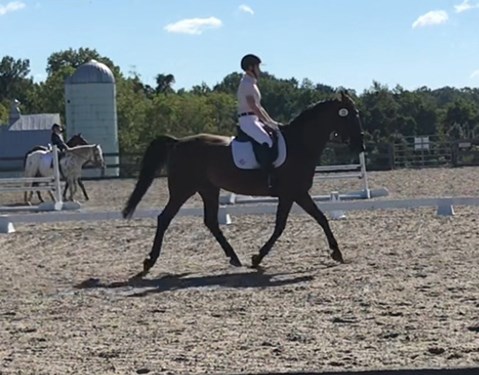 Turner Farm Dressage Schooling Show and Fix-A-Test

4/25/2021
Late entries allowed until 4/21/2021
Organizer:

Nancy Schechtman

Ngschecht@gmail.com

Get back into show season in a positive, low stress environment for you and your horse.
Schooling show classes will be small, pinned classes that allow plenty of time for feedback from the judge (approximately 10 minutes).
Fix-A-Tests will not be pinned but will include riding the test for the judge and scribe, as well as a mini lesson from the judge on what they recommend as the next things on which to focus (approximately 20 minutes).
Approved helmets required along with safe and neat attire. Jackets, braiding optional.
Professional photographer will be on site.
Organizer Notes
Dressage Show
$40.00
Test #2

$40.00

Test #3

$40.00
Tests/Experience
Dressage Show Tests
USDF 2019 Intro - Test A
USDF 2019 Intro - Test B
USDF 2019 Intro - Test C
USEF 2018 Adv- Test A
USEF 2018 Adv- Test B
USEF 2018 BN- Test A
USEF 2018 BN- Test B
USEF 2018 Interm- Test A
USEF 2018 Interm- Test B
USEF 2018 Modified- Test B
USEF 2018 Novice- Test A
USEF 2018 Novice- Test B
USEF 2018 Prelim- Test A
USEF 2018 Prelim- Test B
USEF 2018 Training- Test A
USEF 2018 Training- Test B
USEF 2019 First Level - Test 1
USEF 2019 First Level - Test 2
USEF 2019 First Level - Test 3
USEF 2019 Fourth Level - Test 1
USEF 2019 Fourth Level - Test 2
USEF 2019 Fourth Level - Test 3
USEF 2019 Second Level - Test 1
USEF 2019 Second Level - Test 2
USEF 2019 Second Level - Test 3
USEF 2019 Third Level - Test 1
USEF 2019 Third Level - Test 2
USEF 2019 Third Level - Test 3
USEF 2019 Training- Test 1
USEF 2019 Training- Test 2
USEF 2019 Training- Test 3
Fix-A-Test Tests
Any USDF Test
Any USEF Test- Dressage
Any USEF Test-Eventing
Administrative Information
Trailer Direction:

Turner Farm is located at the intersection of Georgetown Pike (Route 193) and Springvale Road (Route 674) in Great Falls, Virginia. The horse show entrance is on Springvale Road.

Trailer parking is on the grass to the left as you pull in to the property.

Please park smartly with social distance in mind.

Please be mindful and courteous when parking and help us keep the park clean.

Change Policy:

Changes are permitted up to 3 day(s) before registration closes.

Refund Policy:

Refunds are permitted before registration closes.

Entry Option(s) Secure Spot: Pay in full via STRIDER