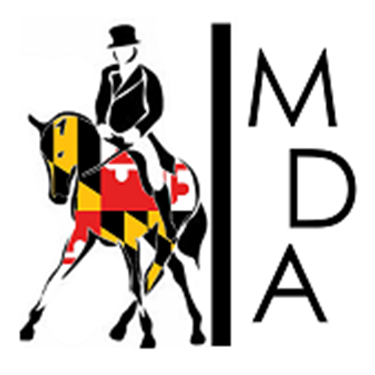 MDA hosts Improving your Flatwork with Ground poles Clinic ​with Karyn Rainey

10/17/2021
Organizer:

Martha Turnbaugh

mdashowsecretary@gmail.com

410-960-5382
Ground poles are for all riders - Dressage, Jumpers, Eventers, Western and Reining!
Clinic will start at 9:00AM
If you ride a horse, you will benefit from regular, correctly-performed pole work. Pole work can increase your horse's strength and flexibility, improve their ability to engage the hindquarters, and make their paces more expressive and cadenced.
This Clinic will focus on ground and raised poles to provide you with a better understanding of the use of the leg and rein aids, along with information to help you with spacing of the poles and cavaletti for at home exercises.
Half halts are the. Backbone to balancing a horse. Repetition is the key to develop a correct,
refined half halt, which is only part of the equation.
Balancing a horse onto their hindquarters uses opposing aids, forward impulsion from the leg
and seat, and a limiting hand. Worksheets will be provided to give bullet points of spacing between rails for your horse. There will also be an addition exercise for balancing into and out of the halt at X.
Organizer Notes
Include a current Coggins (picture uploaded is okay).
A Waiver will be signed at the event
1 Day Clinic
Instructor: NA
$75.00
Tests/Experience
1 Day Clinic Levels
Introductory
Beginner Novice
Novice
Training
Preliminary
Advanced
Training Level Dressage
1st Level Dressage
2nd Level Dressage
3rd Level Dressage
4th Level Dressage
Administrative Information
Change Policy:

Changes are not permitted.

Refund Policy:

No refunds.

Entry Option(s) Secure Spot: Pay in full via STRIDER