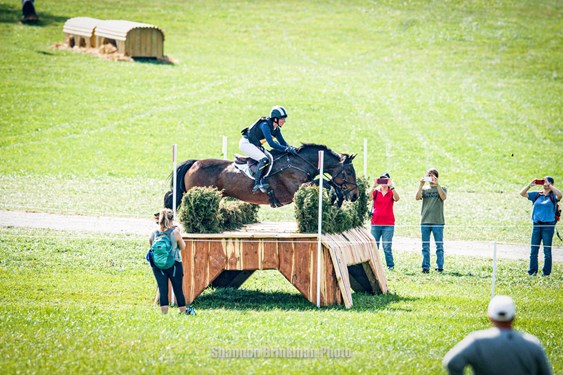 Mini Event Camp with Emma Lomangino

6/4/2022 − 6/5/2022
Late entries allowed until 6/3/2022
Organizer:

Caroline Kyros

caroline@hideawayacres.org

2073171705
Join us for a two day mini camp with 5* eventer Emma Lomangino! Emma is a kind and thoughtful rider and trainer with experience with horses and riders from the Starter level and up. Emma excels at working with young or green horses and has experience with horses of all shapes and sizes. Here are a few excerpts about Emma from an article about her in Eventing Nation:
"By the time she turned 13, Emma estimates she'd ridden over 100 different horses, mainly on account of her not having a horse of her own starting out. So, as many top riders would tell you, she would throw a leg over whatever came her way, indiscriminately seizing every opportunity that presented itself."
"Master Frisky has been a puzzle Emma's been happy to piece together, little by little. Riding him wasn't about furthering her career or winning. "It very much became more about 'how do I get the absolute best out of this horse? How do I produce him to the best of his ability while keeping him happy and comfortable?'" The fact that she's now found herself qualified for and entered in a CCI5* is icing on the cake...Emma says this unlikely, surprising path to her first five-star has taught her a lot. She says she'd love to open her own rehab center down the road, as she's taken a strong interest in the nuances of coaxing a horse back to health. She's become more mindful of her own biomechanics and how imbalances in both horse and rider can cause long-term problems. And in the process, she's come to know her horse like the back of her hand. It's given her a simmering sense of confidence as the week ahead approaches."
The format of this clinic is as follows:
Saturday- 45 minute private dressage lessons in our indoor
Sunday- 90 minute group jump sets in our spacious jump field with stadium and cross country jumps
We will have coffee and snacks available to riders on both days, as well as rider goodie bags from our local sponsors. We will also have a free pizza dinner night on Saturday for riders!
We have limited overnight stabling and day stalls available for this clinic - please contact for more information.
Organizer Notes
Limited stabling available - contact for more info.
Best method of contact is email or text!
2 Day Clinic
Instructor: Emma Lomangino
$300.00
Tests/Experience
2 Day Clinic Levels
Introductory
Elementary
Beginner Novice
Novice
Training
Preliminary
Administrative Information
Ride Time:

Ride times will be sent to riders and posted on Facebook Wednesday before the clinic

Trailer Direction:

We are 15 minutes off of the Gray exit on 95 north! Somewhat limited trailer parking, riders are encouraged to carpool as they are able.

Change Policy:

Changes are permitted before registration closes.

Refund Policy:

Refunds are permitted before registration closes.

Entry Option(s) Secure Spot: Pay in full via STRIDER Reserve Spot Via STRIDER, Mail Check