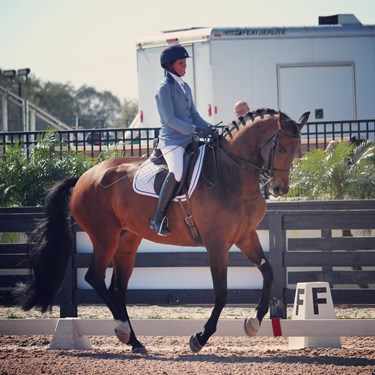 Lisa El-Ramey Clinic hosted by VADA-Fredericksburg

6/11/2022 − 6/12/2022
Organizer:

Megan Irby

mirby2@yahoo.com

540-247-6344
Learn to Ride Better! Understand Your Horse!
As a lifetime equestrian, Lisa has the skill to take to you the top of your riding discipline. Lisa founded, The Rider Project in 2019 to create programs helping riders of all levels and disciplines better understand and incorporate clear and well understood aids into their riding.
As a USDF Gold, Silver, and Bronze Medal and Silver and Bronze Bar recipient and multiple national and regional championship wins, Lisa has the experience to help you reach your equestrian dreams.
With a background and education in science and proper training, Lisa will assist you to create a partnership with your horse and establish a successful plan to reach your goals.
Lisa is positive and clear in her instruction, creative with explanations and techniques to improve communication with your horse and the effectiveness of your aides.
Organizer Notes
Refunds will be issued if rider is able to fill their slot.
Single Ride - Member (VADAF)
$90.00
Single Ride - Non-member
$120.00
Administrative Information
Ride Time:

Organizer will email times the Wednesday before the start of the event.

Change Policy:

Changes are not permitted.

Refund Policy:

No refunds.

Entry Option(s) Secure Spot: Pay in full via STRIDER