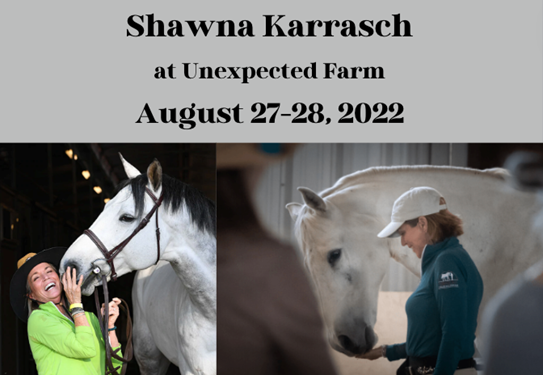 Shawna Karrasch at Unexpected Farm

8/27/2022 − 8/28/2022
Organizer:

Katie Liscovitz

kliscovitz@gmail.com

2077513439
Shawna began her training career far outside the equestrian world, working with large marine mammals. When introduced to the world of top equestrian competition, Shawna saw immediately how reward-based training could be used to engage the horse's willingness in equestrian pursuits. A number of years ago, top trainer John Madden was so impressed with Shawna's early results that the world-renowned training facility at the Madden farm became the testing ground for adapting Positive Reinforcement Training for horses.
Participants must attend both days.
Organizer Notes
No Refunds. If you register and are unable to attend you are still responsible for full payment. You mind find a replacement with approval of event organizer for a $25 change fee.
2 Day Clinic
Instructor: Shawna Karrasch
$500.00
Administrative Information
Ride Time:

A schedule will be sent to participants at least one week before the clinic.

Trailer Direction:

Trailers and cars will park on the track. We will have someone to direct you.

Change Policy:

Changes are not permitted.

Refund Policy:

No refunds.

Entry Option(s) Secure Spot: Pay in full via STRIDER