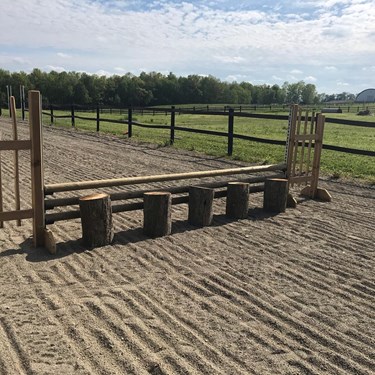 Schooling Derby
5/24/2020

Open: 1/10/2020

Close: 5/22/2020
Organizer: Daisy Trayford
Fun Derby - course will be 1-6 stadium jumps in the ring followed by a loop of our Derby field over a mix on Stadium and XC fences. We have water, ditches, up and down banks (all level appropriate)
These Derbies are a great pre-event prep as a quick tune up for the seasoned horse and rider, or a great way to introduce more inexperienced horses and students to the concept of Eventing.
In order to comply with social distancing regulations - the following rules apply:
No Secretary - ALL entries must be pre-booked and paid for (this includes extra rides / classes) No money can or will change hands on the day and no rides can be added on the day. This will also allow us to properly schedule everything and allot everyone their ride times - STATE LAW currently requires everyone to have an 'appointment'
Bridle numbers will available for pick up in the Parking Area - Please collect your own packet - if there is a line, stay 6 feet apart and wear a mask when collecting your number
We cannot have a prize giving - all clean rounds will receive a ribbon....self pick up at the in-gate
Once you have completed your round please go back to your trailer - GO HOME if you are done. DO NOT hang out ringside
Please park at least 6 feet apart
There is NO stabling available
Appropriate measures will be taken at all times to prevent any contact - PLEASE take responsibility for your own actions and be extra vigilant if you use the bathrooms. Necessary sanitizers and PPE will be available for those who forget their own

Organizer Notes
Daisy Trayford

exmooreventing@yahoo.com

3524257767
Tests/Experience
Derby Levels
INTRO/18"
ELEM/2'3"
BN/2'7"
N/2'11"
TRN/3'3"
Administrative Information
Ride Time:

Times will be emailed and also available on the Exmoor Eventing website

www.exmooreventing.com
Trailer Direction:

GPS is accurate

Please no horse trailers through main farm entrance - use clearly marked side entrance off Oakland Road

Change Policy:

Changes are not permitted.

Refund Policy:

Refunds are permitted before registration closes.

Entry Option(s) Secure Spot: Pay in full via STRIDER Reserve Spot Via STRIDER, Mail Check