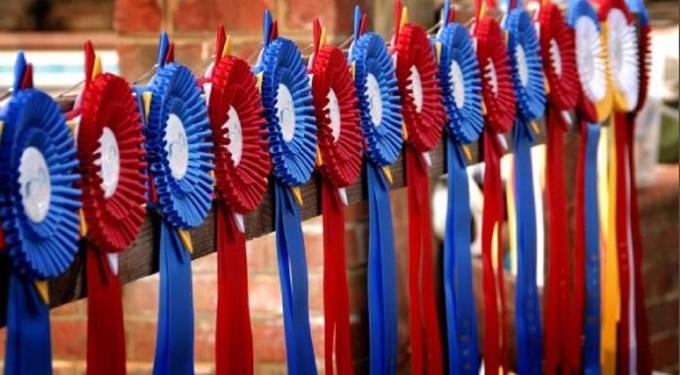 MACTA Schooling Show: June 14, 2020

6/14/2020
Late entries allowed until 6/10/2020
Organizer:

Anne Peters

apeters1105@gmail.com

Horse Trials & Combined Test Levels Offered:
Starter Novice: Fences not to exceed 2′ riding 2019 USDF Intro B
Beginner Novice: 2'6" fences riding 2018 USEF BN B
Novice: 2'11" fences riding 2018 USEF Novice B
Training: 3'3" fences riding 2018 USEF Training B
Preliminary: 3'6" fences riding 2018 USEF Prelim A
Intermediate Combined Test Offered by request.
Cross country course maps available at: https://www.midamericaeventing.com/schooling-shows
Dressage Tests Offered:
Any USEF Eventing Test
USDF Intro A, Intro B or Intro C
Training Tests 1-4
First 1 and First 2
Compete in a full one-day horse trial, a combined test (dressage and show jumping) or dressage in a fun, low-stress show environment. MACTA's Schooling Show Series provides the opportunity to school the cross country courses on Saturday, then compete over the same course on Sunday.
Dress is casual. Boots with heels, approved hard hat with harness, vests and medical armband (for jumping phases) necessary.
Negative Coggins within 1 year is required. MACTA & USEA Liability waivers required. Upload during registration
Entries close at 11PM on Sunday the weekend before the show. Strider Registrations will charge a late fee for entries received after 11pm on Sunday through the Tuesday prior to the show after which time NO entries will be accepted.
Riders with multiple horses MUST create a separate entry for each horse.
****NO REFUNDS ISSUED AFTER FINAL CLOSING DATE UNLESS SHOW IS CANCELED.****
MACTA does not provide or organize stabling. All competitors are responsible for organizing their own stabling. Stabling may be available at nearby farm. White Fox Manor 913-219-2212
Organizer Notes
No refunds will be issued after closing date under any circumstances if the show is held.
In case of competition cancellation, refunds will be issued via EventClinics within 30 days of the event.
Non-Member Fee

$55.00

Late Fee

$25.00
Tests/Experience
Horse Trials Levels
Introductory
Beginner Novice
Novice
Training
Preliminary-O
Combined Test Levels
INTRO
BN/Jumps to 2'7"
N/Jumps to 2'11"
TRN/Jumps to 3'3"
PRELIM/Jumps to 3'7"
INT/Jumps to 3'9"
Dressage Only Tests
2019 USDF Intro Test A
2019 USDF Intro Test B
2019 USDF Intro Test C
USEF 2018 BN Test A
USEF 2018 BN Test B
USEF 2018 Novice Test A
USEF 2018 Novice Test B
2012 USEF Novice 3-Day Event Test
USEF 2018 Training Test A
USEF 2018 Training Test B
USEF 2018 Prelim Test A
USEF 2018 Prelim Test B
USEF 2018 Interm Test A
USEF 2018 Interm Test B
2019 USEF Training Level Test 1
2019 USEF Training Level Test 2
2019 USEF Training Level Test 3
2019 USEF First Level Test 1
2019 USEF First Level Test 2
2019 USEF First Level Test 3
FEI */**/***/**** Tests (Eventing)
Administrative Information
Ride Time: Ride times will be emailed and posted at www.macta.info 2 days prior to event.
Trailer Direction: Directions to Heritage Park
168th & Pflumm Rd; Olathe, KS

GPS: Directly across the street from 16801 Pflumm Rd, Olathe, KS 66062

The MACTA entrance to Heritage Park's equestrian facilities is located directly across the street from 16801 Pflumm Rd in Olathe, KS. The gate is on the west side of Pflumm Rd between 175th and 159th and is minimally marked and has a gravel entrance.

Directions from I-35

From Northbound I-35, take Exit 210, turn right and take 175th street east to Pflumm Rd., *Go slow at R/R tracks* turn North (left) onto Pflumm and go to Horse Park entrance on left. If you miss the horse park entrance, there is a sports complex just a bit north on Pflumm that has a large parking lot you can easily turn around in.

From Southbound I-35: take Exit 215 (169 South, 7 Hwy. Paola). Turn onto 169 South and go to 175th Street. Turn left at 175th Street. *Go slow at R/R tracks* turn North onto Pflumm and go to Horse Park entrance on left. If you miss the horse park entrance, there is a sports complex just a bit north on Pflumm that has a large parking lot you can easily turn around in.

Directions from Hwy 69

Take the 179th street exit from Highway 69. Turn west on 179th street. 179th will curve and become 175th. Turn North (right) on Pflumm Rd. The horse park entrance will be on your left, across from 16801 Pflumm Rd. If you miss the horse park entrance, there is a sports complex just a bit north on Pflumm that has a large parking lot you can easily turn around in.

Change Policy:

Changes are permitted before registration closes.

Refund Policy:

Refunds are permitted before registration closes.

Entry Option(s) Secure Spot: Pay in full via STRIDER