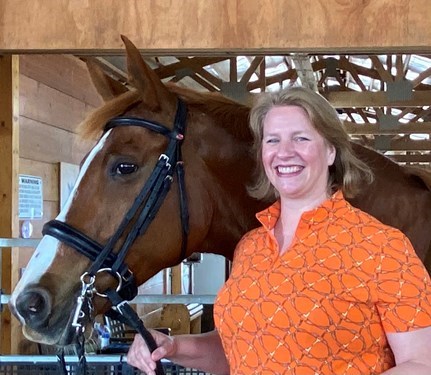 Rider Biomechanics with Suzanne Galdun

8/20/2022 − 8/21/2022
Organizer:

Lauren Sprieser

lauren@spriesersporthorse.com

Suzanne Galdun is one of only 9 currently accredited Ride With Your Mind biomechanics coaches in the United States. After auditing a Mary Wanless clinic while a full-time certified therapeutic riding instructor in 2004, Suzanne started applying some of Mary's techniques in her teaching and riding, and started to see a difference in herself and her students, both in the therapy arena and dressage. It wasn't until 2013 that Suzanne was finally lucky enough to bring Mary to her home barn, Oak Brook Farms, for her first clinic in the Chicago area. Suzanne continued riding regularly with Mary and attending her teacher training clinics, and in 2018 earned her accreditation as a biomechanics coach.
With an incredible eye for detail, Suzanne works to bring riders to a new level of awareness and understanding of what they are actually doing in the saddle, and how to communicate more clearly to the horse. Her lessons include creative language and hands-on resistances as well as open dialogue between coach and rider. To the casual observer, these lessons don't sound like a typical dressage lesson, but the change in horse and rider is clear to see. It is Suzanne's mission to be a positive influence on horse and rider, no matter their age, level, condition, or goals. Everyone wants to ride better, and indeed, with the right help, everyone can.
Suzanne is a regular fixture at Sprieser Sporthorse, and we have all been blown away by how accessible her information is. Suzanne is equally helpful to our upper-level riders as to our beginners, and all in between, and auditing is worth every penny for the experience. She's truly the best clinician we've ever had!
Auditing is available for this event. $35 here on Strider, which includes lunch, or $40 at the door, which does not.
Organizer Notes
Administrative Information
Ride Time:

Ride times will be posted on our Facebook page closer to the event.

Change Policy:

Changes are not permitted.

Refund Policy:

No refunds.

Entry Option(s) Secure Spot: Pay in full via STRIDER