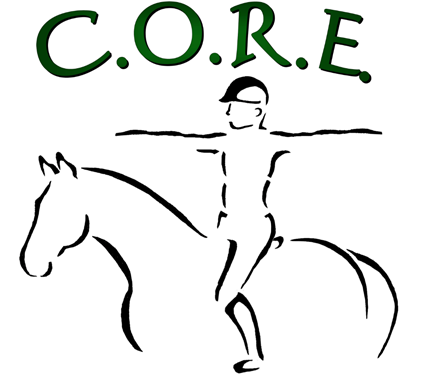 C.O.R.E. Rider Fall Clinic #1

9/28/2019
Late entries allowed until 9/23/2019
Organizer:

Kathleen Beckley

plbarnmanager@gmail.com

301.312.4587
Get to the 'CORE' of your riding with this fun fall clinic series with Mind Body Studies Academy graduate and professional equestrian, Glenda Player!
CORE Rider is an acronym for Centered, Organized, Responsive, Effective riding. Through this method, riders learn how to use aids in a clearer, more organized and effective manner, thus developing a responsive, balanced horse. The method assists in learning a clearer sense of awareness of one's own movements and use of self. In the process, the method promotes ease of movement, coordination and flexibility. At the heart of the CORE Rider method is teaching oneself a greater awareness of his/her own movement.
To learn more about C.O.R.E.: http://playlandequestriancenter.com/c-o-r-e-rider/.
The clinic consists of unmounted group sessions and mounted small group lessons (3 riders max). With AM and PM groups, you're only have to commit a half day to get the most out of this clinic. Plus a FREE lunch will be provided for participants between the AM and PM sessions.
Lesson horses are available on a limited basis. Contact Glenda directly for more information.
TENTATIVE CLINIC FORMAT
9:00-10:30am -- Morning unmounted group session
10:45am-12:00pm -- Mounted group #1
12:00pm-1:15pm -- Mounted group #2
LUNCH BREAK
1:45-3:15pm -- Afternoon unmounted group session
3:30-4:45pm -- Mounted group #3
4:45-6:00pm -- Mounted group #4
6:00-6:30pm -- Mounted private (optional, 1st come 1st serve)
6:30-7:00pm -- Mounted private (optional, 1st come 1st serve)

Organizer Notes
Once the schedule is set, you "own" your slot and are responsible for either paying for it or finding a replacement. All efforts will be made to fill the slot, but there are no guarantees.
Unmounted + Mounted Group Sessions
$85.00
Unmounted Group Session ONLY
$35.00
Unmounted + Mounted Private Session
$100.00
Day Stall rental

$25.00

Late Fee

$15.00
Administrative Information
Ride Time:

Will be emailed and posted to the Playland Equestrian Center website approximately 1 week prior to the clinic.

Trailer Direction:

Parking on the gravel lot next to the indoor arena.

Change Policy:

Changes are permitted before registration closes.

Refund Policy:

Refunds are permitted before registration closes.

Entry Option(s) Secure Spot: Pay in full via STRIDER