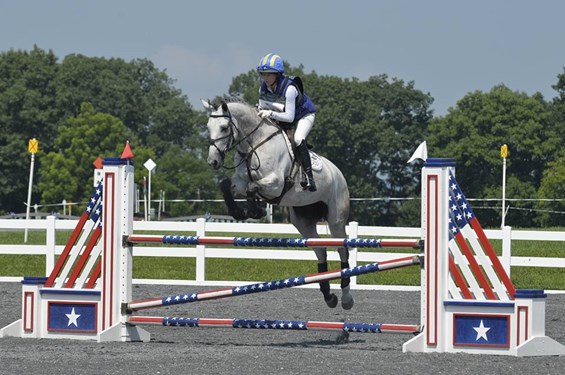 Andrea Davidson Winter Clinics
1/18/2020 − 1/19/2020

Open: 11/20/2019

Close: 1/13/2020

Late entries allowed until 1/16/2020
Organizer: Helen Anastassov
Join us for a series of winter clinics with international three day advanced (CCI****) event rider, Andrea Davidson! They are designed to be two-day experiences (but entries for one day are also accepted!) that continue to progressively build skills through the winter season. The first day uses gymnastic exercises to sharpen and balance the horse and rider, and the second day puts new skills to practice over full jump courses.
Even if you are not an eventer, Andrea will bring out the best in your partnership with your horse at any level, and any discipline! We can offer private flat lessons as scheduling allows-- just ask!
---------------------------------
NOTE: There is a 10% discount for those who sign up for 2+ full clinics!
Organizer Notes
Helen Anastassov

helenanastassov@gmail.com
Refunds issued if the clinic cancelled.
1 Day Clinic
Instructor: Andrea Leatherman (ICP III)
$110.00
2 Day Clinic
Instructor: Andrea Leatherman (ICP III)
$200.00
Tests/Experience
1 Day Clinic Levels
Introductory
Elementary
Beginner Novice
Novice
Training
Modified
Preliminary
Training Level Dressage
1st Level Dressage
2nd Level Dressage
3rd Level Dressage
4th Level Dressage
2 Day Clinic Levels
Introductory
Elementary
Beginner Novice
Novice
Training
Modified
Preliminary
Training Level Dressage
1st Level Dressage
2nd Level Dressage
3rd Level Dressage
4th Level Dressage
Administrative Information
Ride Time: Organizer will email times and updated, and you can also check the facebook group: https://www.facebook.com/groups/463704774504098/
Trailer Direction:

Do not take Carversville Road to McNeil Road with your trailer! Please take an alternate route. Contact host for help.

Change Policy:

Changes are permitted up to 2 day(s) before registration closes.

Refund Policy:

No refunds.

Entry Option(s) Reserve Spot Via STRIDER, Mail Check