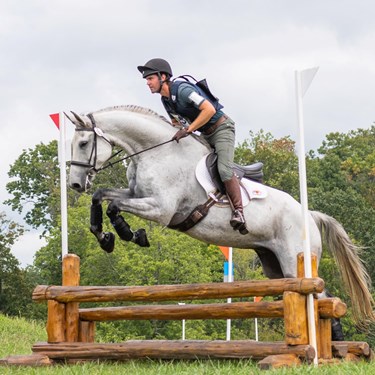 Ground work, Mounted horse Training & Eventing problem solving Clinic with Michael Alway at Wyndham Oaks Saturday June 3rd

6/3/2023
Late entries allowed until 5/31/2023
Organizer:

Veronica Bill

veronica@wyndham-oaks.com

301-775-3630
Are you looking for a deeper connection and understanding of your horse to help develop them into a better Sporthorse? Do you want to better recognize why they react or spook? Sign up with Michael Alway to gain insight and tips on how to handle and appreciate your horse on the ground or when riding.
Michael specializes in understanding the horse's individual nature, learning style, confidence level and ability to set him or her up for success using communication, understanding, and psychology. Horsemanship is way more than riding, it is understanding the horse at a deeper level. There is a psychology to horses and horse training. He works with a wide variety of horses including starting horses, giving troubled horses a new start, trailer loading, behavior issues, developing solid foundations, and teaching horsemanship to anyone who wants to learn. Michael regularly works with international riders, Grand Prix dressage horses and riders, 4* Eventers, Jumpers, and amateur horse owners, as well as being a competitive rider himself.
Why book a clinic with Michael?
Groundwork Clinics provide the rider with a fresh perspective on how their horse moves and a deeper awareness of tensions within the horse. This adds an important dimension to the rider's understanding of their horse's body and the suppling, strengthening, and conditioning the horse needs to perform well.
Groundwork allows the handler to refine his or her skills and aids. Riders leave the clinic with new tools that they can use at home to school a green horse, relax a mount prior to riding, reduce lameness while improving performance, and most importantly–improve their equine partnership.
Finding the perfect balance of relationship and respect, teaching the horse the appropriate response to pressure without fear, whether that be the rider, whip, leg, rein, or even an obstacle, object, or the perceived environmental pressure of a place or situation.
For a horse to respect the handler, there must be mutual trust and respect. Michael will spend time getting to know each rider/handler and develop the relationship with the horse.
Michael will also work on mounted activities with anyone interested including standing at the mounting block, spooking in new arenas, water crossings, or herd-bound issues to name a few. As a competitive eventer, he is also able to help problem-solve jumping, water obstacles, and other problem behaviors that eventers may encounter.
Book your lesson today!
Organizer Notes
For 2023, we are implementing a new payment procedure for all individuals riding in our clinics. In order to secure a spot in a clinic, participants must pre-pay for the clinic. Once we have received payment for the clinic your spot will be secured. If a rider has to cancel their ride and we can fill the spot in the clinic they will receive a refund minus $20 fee. Alternatively, the rider can fill the spot themselves with someone of their choosing for no fee and be paid directly from the alternate rider. If the rider is able to fill the spot, please notify Wyndham Oaks so we can update the clinic schedule.
Auditors do not need to pre-register and they can pay on the day of the clinic with cash or a check. Participants can bring one guest with them to audit for free.
Participants have two options for paying for the clinic. They can mail a check made out to Wyndham Oaks or for pay via paypal (friends and family).

Mail checks to: Paypal:wyndhamoaks@gmail.com
Wyndham Oaks
℅ Veronica Bill
19301 Bucklodge Rd
Boyds, MD 20841
Semi-Private Lesson
$75.00
Late Fee

$5.00

Change fee

$10.00

Refund fee

$20.00
Administrative Information
Ride Time:

Ride times will be sent out via email a week before the clinic. We also will post ride times on our event website. Please indicate if you have a preferred time of day (morning, afternoon, or evening). Please reach out with any questions, we are more than happy to talk through your training goals to see if this is a clinic you would benefit from.

Trailer Direction:

Horse trailer parking available in front of main barn, by outdoor ring or other locations if needed for training session.

Change Policy:

Changes are permitted before registration closes.

Refund Policy:

Refunds are permitted before registration closes.

Entry Option(s) Secure Spot: Pay in full via STRIDER Reserve Spot Via STRIDER, Mail Check