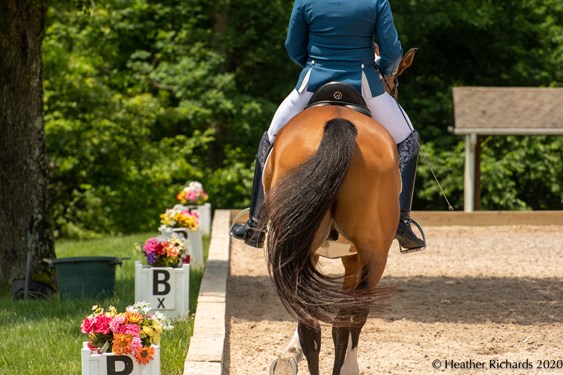 Sprieser Sporthorse Fix A Test with Karrigan Norris

4/11/2021
eWaiver Link(s)

Organizer:

Karrigan Norris

karrigan@spriesersporthorse.com

Get ready for the ring in 2021! Join USDF Silver & Bronze Medalist and "L" Program Candidate Karrigan Norris for a day of great learning to get you ready for your competition season. Riders will ride their tests with feedback immediately after. Sign up to ride the same test twice to implement Karrigan's wisdom! And enjoy our beautiful indoor arena with dust-free footing, and easy parking.
Tests will be ridden in a STANDARD size arena.
Organizer Notes
If you're coming with other riders, let us know so we can schedule you together!
Dressage Fix A Test
$50.00
Extra Dressage Test

$50.00
Tests/Experience
Dressage Fix A Test Tests
USDF 2019 Intro - Test A
USDF 2019 Intro - Test B
USDF 2019 Intro - Test C
USEF 2019 First Level - Test 1
USEF 2019 First Level - Test 2
USEF 2019 First Level - Test 3
USEF 2019 Fourth Level - Test 1
USEF 2019 Fourth Level - Test 2
USEF 2019 Fourth Level - Test 3
USEF 2019 Second Level - Test 1
USEF 2019 Second Level - Test 2
USEF 2019 Second Level - Test 3
USEF 2019 Third Level - Test 1
USEF 2019 Third Level - Test 2
USEF 2019 Third Level - Test 3
USEF 2019 Training- Test 1
USEF 2019 Training- Test 2
USEF 2019 Training- Test 3
Administrative Information
Ride Time: Ride times will be emailed, and posted on www.facebook.com/spriesersporthorse.
Trailer Direction: From I-66
• Take the VA-55 E exit- EXIT 27- toward VA-647 / MARSHALL
• At top of exit, turn left and go back across the Interstate if you've come from the East; if you've come from the West, turn right.  Take the first RIGHT turn, which is VA-647, CREST HILL ROAD.
• Follow CREST HILL ROAD approximately 5 miles.
• Turn LEFT onto WILSON RD and go approximately 2 miles.
• Turn RIGHT onto CONDE RD and go 1.3 miles.
• Turn LEFT onto OLINGER RD.
• SPRIESER SPORTHORSE will be down the road 0.8 miles on your right – 6782 OLINGER ROAD.From Warrenton
• Take FROST AVENUE west (away from town) and turn RIGHT on VAN ROIJEN, which is about 0.3 miles from the intersection of Frost and 17/29.
• Go 0.1 miles and turn LEFT on OLD WATERLOO RD (VA-678).
• Follow OLD WATERLOO (do NOT turn onto Lower Waterloo), – which curves right to become WILSON RD –  for 9.1 miles, and turn left onto CONDE ROAD (VA-764).
• Follow CONDE 1.3 miles and turn LEFT onto OLINGER ROAD.
• SPRIESER SPORTHORSE will be down the road 0.8 miles on your right – 6782 OLINGER ROADFrom Culpeper
• Take VA-229 / RIXEYVILLE RD to LEE HWY / US-211 E – turn RIGHT (EAST)
• After 1.5 miles, turn LEFT onto LEEDS MANOR RD and then RIGHT onto OLD WATERLOO RD.
• Follow OLD WATERLOO RD 2 miles to WILSON RD – turn LEFT onto WILSON RD
• Follow WILSON RD 5 miles to CONDE RD – turn left onto CONDE RD and go 1.3 miles.
• Turn LEFT onto OLINGER RD.
• SPRIESER SPORTHORSE will be down the road 0.8 miles on your right – 6782 OLINGER ROAD

Change Policy:

Changes are not permitted.

Refund Policy:

No refunds.

Entry Option(s) Secure Spot: Pay in full via STRIDER