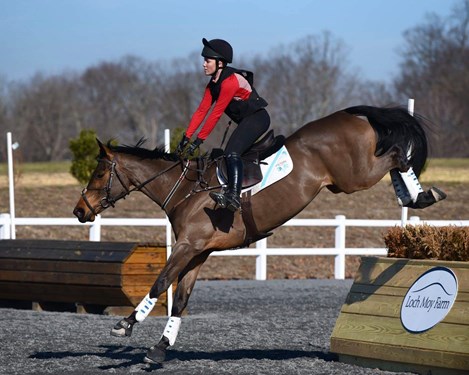 XDerby, XC and Indoor Schooling at Loch Moy Farm

3/17/2021 − 12/31/2022
Organizer:

Carolyn Mackintosh

mdhorsetrials@gmail.com

301-514-0111
9 acre All Weather XDerby course with banks, ditches, water and show jumps AND/OR XC schooling course on grass. We also have a gallop track and river trail at Loch Moy Farm, along with our indoor ring. We are open every day by appointment.
PLEASE CALL/TEXT FOR TIME AND SPECIAL PARKING INSTRUCTIONS!!
301-514-0111
You MUST schedule your date and time.
You also MUST upload a coggins (https://www.themarylandhorsetrials.com/upload-coggins) and waiver (https://www.themarylandhorsetrials.com/upload-waiver) or to StriderPro and PAY before you arrive on the property.
ALL HORSES must have a coggins and pay a fee. No exceptions.
XDerby Course - $60 (includes XC schooling course)
XC course - $60 (includes XDerby course)
Gallop Track - $30
River Trail/Hacking Only (no jumping or ringwork) - $30**
Indoor Arena Schooling (dressage or SJ) - $30
Companion Horse/In-Hand Horse - $30
XC Schooling includes Gallop Track
**River Trail/Hacking included in all other schooling fees
Organizer Notes
You MUST text 301-514-0111 to schedule your day and time.
Must have COGGINS and WAIVER uploaded to Event Clinics/Strider or the MDHT website.
Bring WATER for your horse. No water will be available on grounds.
River Trail/Hacking Only
$30.00
Companion Horse/In-Hand Horse
$30.00
Indoor Arena Schooling
$30.00
Administrative Information
Ride Time:

You MUST text 301-514-0111 to schedule your date and time. No unannounced arrivals will be tolerated.

Trailer Direction:

Call for specific parking directions. 301-514-0111

Change Policy:

Changes are permitted up to 0 day(s) before registration closes.

Refund Policy:

Refunds are permitted before registration closes.

Entry Option(s) Secure Spot: Pay in full via STRIDER