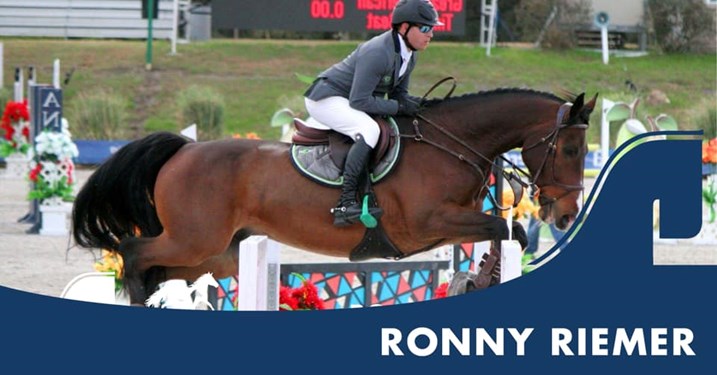 EQUITANA USA: Jumpers Clinics with Ronny Riemer

10/1/2021 − 10/2/2021
Organizer:

Nicole Forbes

Nicole.forbes@rxglobal.com

Grand Prix showjumper Ronny Riemer of RCR Equestrian, Inc will teach a two-day jump clinic at EQUITANA USA 2021. EQUITANA USA is pleased to partner with STRIDER, the leading equestrian bookings platform, to enable applications and payment for this premier opportunity. To submit your application to ride in this clinic session via STRIDER, visit: https://bit.ly/applyequitana
Join us October 1 and 2 for a show jumping clinic with Ronny Riemer, "The German Riding Instructor," from RCR Equestrian Inc. There will be three groups divided by jump height with four riders per group.
Auditing is included as part of your EQUITANA USA general admission ticket. 🎟. For tickets, visit: https://equitanausa21.com/Strider-Pro
Day 1
• Horsemanship and warm-up techniques
• Understand your horses needs
• What you can do to make your horse better
ABOUT RONNY RIEMER:
Ronny is an accomplished Grand Prix and Championship rider with over 20 years experience in the sport horse industry. Riding for names like Franke Sloothaak and Paul Schockemöhle, Ronny made a name for himself as a rider and trainer, not just in Germany but also in other parts of Europe and North America. Knowing the difference between the European and American way of riding, Ronny combines the best of both styles to individually suit both horse and rider.
To submit your riding application, visit: https://bit.ly/applyequitana
_______________________________________________________________
ABOUT EQUITANA USA:
EQUITANA USA is the premier North American forum that promotes the exchange of ideas, information, and experiences to enhance the horse and the equine industry; all while providing a high-quality event for those with a passion for horses.
The live event (October 1-3, 2021) features education, entertainment, and a trade fair featuring riding equipment and apparel, horse care supplies, gifts, and more products and services.
Throughout the year, equestrians can also experience shopping, education, and entertainment digitally through the EQUITANA USA 365 hub.
🎟. For tickets, visit: https://equitanausa21.com/Strider-Pro
🐴 To apply to ride in this clinic, visit: https://bit.ly/applyequitana
Organizer Notes
Please attach your horse's negative coggins and proof of vaccination within 6 months at the time of entry via STRIDER.
2-Day Jump Clinic 9:00am-10:30am
$125.00
2-Day Jump Clinic 1:00pm-2:30pm
$125.00
2-Day Jump Clinic 4:45-6:15pm
$125.00
Administrative Information
Ride Time:

This clinic has multiple sessions, horse & rider combinations will be split into groups according to experience level. Sessions will take place October 1 and 2, 2021 from 9:00am-10:30am, 1:00-2:30pm, and 4:45-6:15pm in the Rolex Stadium at the Kentucky Horse Park

Change Policy:

Changes are not permitted.

Refund Policy:

No refunds.

Entry Option(s) Secure Spot: Pay in full via STRIDER