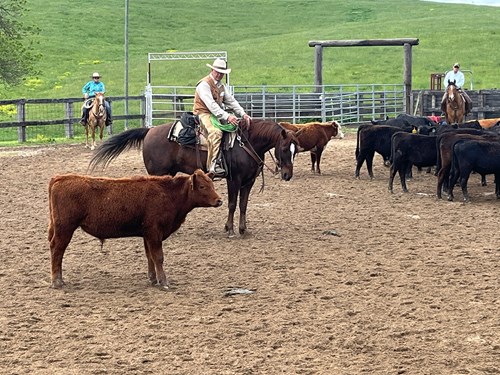 Cattle Working Clinic

9/25/2022
Late entries allowed until 9/24/2022
Organizer:

Holly Linz

keepstables@yahoo.com

9137105792
Cattle Working Clinic at Saddle Up Ranch, with Mike Feister.
Mike brings an extensive world of experience to the saddle to help riders of all disciplines improve their relation ship with their horses. The clinics are set up for the expectations of the cattle trial in Working Equitation, but can help any horse and rider from any discipline learn to work with one another to achieve the goals of working the cattle. Horse and rider begin to think and move as one.
Safe, encouraging, supportive environment.
Starts on the ground making sure the horses are settled around the cattle, then works into mounted exercises to get the horse and rider ready for the handiness they will need to navigate the cattle.
Builds on horse and rider sensitivity, responsiveness into a more harmonious partnership.
Indoors or outdoors, depending on weather!
Check out Mikes site below!
https://www.facebook.com/Mike-Diane-Feister-Saddle-Up-Farm-929552017159288

Organizer Notes
You ow your spot once you sign up.
If you cannot attend lease find someone to fill your spot, or check with us to see if we can.

Administrative Information
Ride Time:

Confirmation will be emailed out several days before the clinic via the email used to sign up.

Trailer Direction: Trailer Parking right as you pull into the farm.
Can be a bit tight, but pull in to get a better position to back in,
Diane should meet you in the lot to get you a waiver and help settle parking.
Port a poty near parking area.
Change Policy:

Changes are not permitted.

Refund Policy:

No refunds.

Entry Option(s) Secure Spot: Pay in full via STRIDER