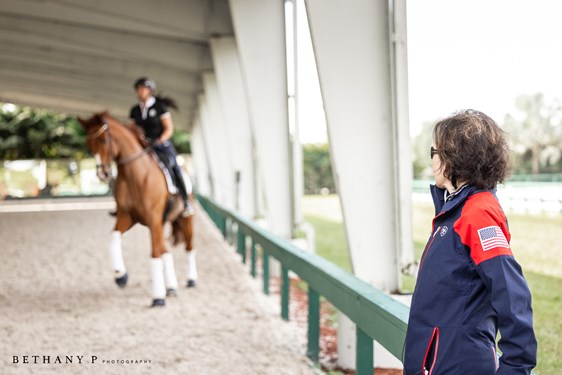 Weekend Clinic with Kathy Connelly

7/23/2022 − 7/24/2022
Organizer:

Ashley Madison

yellowwooddressage@gmail.com

Yellow Wood Dressage, Inc is proud to host our dear friend and trainer Kathy Connelly for a weekend clinic on October 9/10! This clinic will be open to the public for auditing for one or both days at our beautiful facility in Chesapeake City, MD. Kathy is a wealth of knowledge and has a lovely kind way with all horses and riders which makes her a wonderful teacher for horses and riders of all levels! Due to Covid precautions, we will NOT be allowing walk-in auditors on the day of event. Please be sure to pre-register if you would like to attend. Auditors should bring their own lunches but coffee and snacks will be provided. We are so happy to be hosting events again at Riveredge and are looking forward to this fun weekend with one of our favs!
Kathy's experience in equestrian sport is deep and wide-ranging. An "A" Pony Clubber by the age of 17, she won the "A" division National Championship competing in eventing. She went on to represent the U.S. in Australia where she competed again in the "A" eventing division, winning team bronze. After shifting her focus exclusively to dressage, Kathy rode for the U.S. at the World Cup in Gothenburg, Sweden, and in Canada as part of the bronze medal Grand Prix team competing at the North American Championships. In her work as trainer, Kathy has guided students to victories at NAYRC dressage championships and a NAJYRC eventing championships. She has served as a personal coach at the World Equestrian Games, the World Cup in Sweden, and coached the Canadian Individual Silver Medal winner at the Pan American Games. Kathy was appointed Chef D'Equipe and team coach for the Silver Medal United States Young Rider Team in Australia and has served as Co-Chef d'Equipe for the United States Dressage Team at Hickstead, England.
Kathy has always believed strongly in the importance of continuing education in classical dressage. She has worked extensively with Herbert Rehbein in Germany. Kathy also brought her Grand Prix horse to Austria to study long lining with Ernst Bachinger, a former Director of the Spanish Riding School, focusing on advancing her understanding of the horse's state of mind in the advanced levels of collection required for piaffe and passage. As a result of her record of success, her commitment to learning in all aspects of the sport of dressage, and her warm good humor, Kathy is a very sought-after instructor and clinician who brings her deep font knowledge to her work with riders and horses at all levels. Along with her many riding clinics, she also offers specialized clinics in long line training for the piaffe and passage.
Organizer Notes
IMPORTANT INFO:
Please select "Full Audit" to sign up for Saturday only clinic auditing AND the evening Party/Lecture in the clubhouse following Saturday's clinic.
Please select "Daily Audit" to sign up for Saturday and/or Sunday WITHOUT attending evening with Kathy on Saturday evening (quantity would be 2 for both days)
No refunds, may substitute for riding spot with approval.
Snacks, coffee, and water are provided, but lunches are not.
Cocktail party on Saturday evening for riders and auditors with a special lecture from Kathy!
Administrative Information
Ride Time:

Ride times and full schedule will be posted on my Ashley Madison Facebook page and Yellow Wood Dressage Pages prior to event.

Trailer Direction:

Please see map of facility in documents attached, entrance and exit are marked with signs within property.

Change Policy:

Changes are not permitted.

Refund Policy:

No refunds.

Entry Option(s) Secure Spot: Pay in full via STRIDER Reserve Spot Via STRIDER, Mail Check