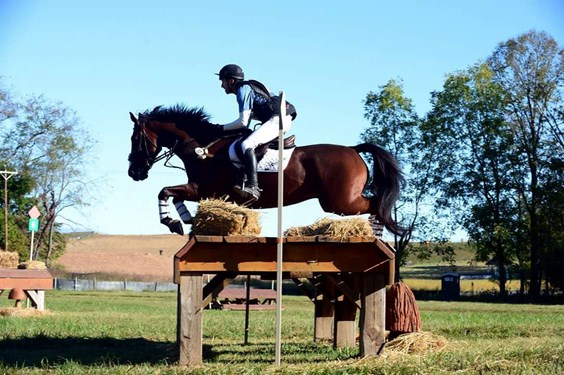 3* Eventer Michael Willham Clinic at Harlem Equestrian Center

1/15/2022 − 1/16/2022
Late entries allowed until 1/13/2022
Organizer:

Natalie Kobylski

boldrun887@gmail.com

Michael Willham is an Intermediate/3* level Eventer and USDF Bronze Medalist. He has ridden consistently with top Olympic/5* level riders such as Phillip Dutton, Bruce Mandeville, and Sally Cousins. Michael prides himself on gaining exposure from as many different styles and theories, having also ridden with other top 5*/Olympic eventers and Grand Prix dressage riders such as Denny Emerson, Mike Plumb, Doug Payne, Boyd Martin, Emily Hamel, and George Williams.
Michael enjoys being able to draw on this breadth of experience from very theoretical-based to very practical-based schools of thought to create a well-rounded approach to his own riding as well as passing this along to those he teaches.
Michael's top accomplishments include his back-to-back CNC ½* and CNC1* National Championship wins (Classic Training Long Format and Classic Prelim Long Format) in 2015 and 2016. He also won "Best Conditioned Horse" in the 2016 Prelim Long Format, which at the time was the only Prelim Long Format left in the United States.
More recently, Michael took home a 3rd place finish at the VAHT CCI2*-S in 2019, only being topped by two 5* riders. They were one of only 2 pairs to finish on their dressage score.
Michael values being able to pass on tools and knowledge that can help riders for every ride and for their long-term development, not just a specific exercise. Most of our rides are without instructors present, so Michael knows the value in giving riders foundational tools and theories to apply when they are on their own.
Organizer Notes
Lessons will be tailored to each groups' level. Depending on each rider/horse's needs, Saturday will mostly consist of flatwork, polework, and a small amount of jumping; while Sunday will take the topics learned on the day before and focus a little more on jumping.
Lessons are going to be 2-person groups so that you can get the absolute most out of your lesson, instead of sitting around waiting for 4/5 other people to take turns! Lessons will be approximately 1 hour and 15 minutes long.
If you can make only one day of the clinic, that may be able to be accommodated. Please contact Natalie/Harlem Equestrian Center to discuss.
Private dressage lessons are available, please make sure to select the private lesson entry. These lessons will be one-on-one for 45 minutes. 1 entry ($100) is for 1 lesson. If you'd like a private dressage lesson both days, please make sure to enter 2 lessons.
$15 Haul-in fee covers the entire weekend.
Auditing is free for participants. $15 for everyone else.
No refunds unless the clinic is cancelled or your spot can be filled from the wait list.
All registration must come through Event Clinics, which includes payment, no paper entries.
Clinic entry is for two days (unless you entered the private dressage lesson).
Very limited stabling available. Please contact Natalie if you need a stall. Priority will go to those coming from farthest away.
In addition to the clinic/auditing fees, Riders and Auditors are also asked to bring non-perishable food and other toiletry items to be donated to the local food bank to help those in need in our community.
Please note if you have any scheduling/timing restrictions and/or if you are trailering with another rider. We will do our best to work around time restrictions and to keep people in the same lesson or back-to-back lessons, depending on level.
2 Day Clinic
Instructor: Michael Willham
$200.00
Haul-in Fee

$15.00

Late Fee

$25.00
Tests/Experience
2 Day Clinic Levels
Introductory
Beginner Novice
Novice
Training
Modified
Preliminary
Intermediate
Administrative Information
Ride Time:

Ride times will be posted on Harlem Equestrian Center's Facebook Page a few days before the clinic.

Change Policy:

Changes are not permitted.

Refund Policy:

No refunds.

Entry Option(s) Secure Spot: Pay in full via STRIDER