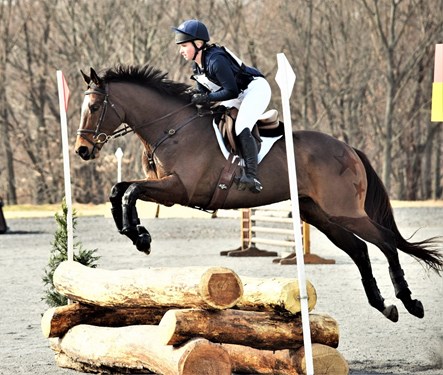 Schooling on Cross Derby Course! (All weather rings!)
11/24/2019 − 3/15/2020

Open: 11/13/2019

Close: 3/15/2020
Organizer: Carolyn Mackintosh
XC Schooling at its best! Join us at Maryland Horse Trials for a rare opportunity to school over the cross country and stadium fences on 9+ acres of fabulous all weather footing. We have banks, ditches and a water complex, too! We have many elementary and beginner novice jumps, in addition to novice, training and modified portables. Jumps will be moved and added throughout the season. Need a particular combination or looking for some higher fences? Let us know!
Riders may NOT school alone.
Please attach your signed release and coggins to Event Clinics entry.

Organizer Notes
Carolyn Mackintosh

mdhorsetrials@gmail.com

301-514-0111
***PLEASE SPECIFY THE DAY/TIME YOU PLAN TO SCHOOL IN NOTE TO ORGANIZER TO ENSURE GATES ARE OPEN WHEN YOU ARRIVE. **
Secure your spot with a complete reservation as soon as possible! We need your Coggins & signed release to secure your spot. We do not store Coggins/Releases unless they are uploaded to the MDHT website. (www.themarylandhorsetrials.com)
EventClinics Members can electronically upload additional documents to their entries if needed.
All signed forms and payment must be submitted BEFORE you take your horse off the trailer, or you will be excused from the course!
Riders must wear an ASTM/SEI approved helmet and body protector. A medical armband is recommended.
Ground conditions sometimes dictate the use of studs. We strongly suggest you bring them along and check footing prior to beginning your schooling.
Stabling available for $50/night and includes one bag of shavings. Additional bags for purchase at $10/bag.
Portable bathrooms on grounds. Be sure to bring water for your horse! Our plumbing will be shut down for the winter.
Full Stabling

$50.00

Shavings

$10.00

RV Hookup

$40.00
Tests/Experience
Other Levels
Introductory
Elementary
Beginner Novice
Novice
Training
Preliminary
Administrative Information
Ride Time:

Your payment reserves the opportunity to school Loch Moy's competition course on a specific day. If you would like to change the requested day, please contact office via mdhorsetrials@gmail.com or text 301-514-0111. Thank you!

Trailer Direction:

From Washington D.C.--Approximate distance: 40 miles

From Route 495, take Route 270 North, towards Frederick. Continue on Rt. 270 N, approximately 26 miles, to Exit 26 for Route 80 West, Buckeystown/Urbana. Turn right off the exit ramp, circling under Rt. 270 and continue on Rt. 80 W, approximately 1.5 miles to Park Mills Road on the left. Turn left onto Park Mills Rd. and continue straight for approximately 5.8 miles to the entrance on the right.

Change Policy:

Changes are permitted before registration closes.

Refund Policy:

No refunds.

Entry Option(s) Secure Spot: Pay in full via STRIDER