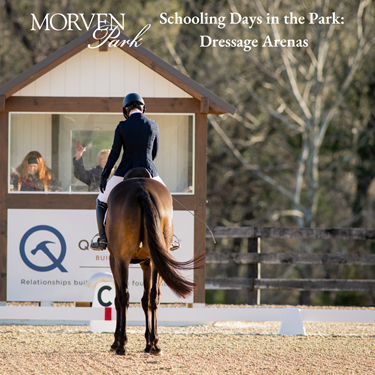 Schooling Days in the Park: Dressage Arenas

7/10/2023 − 7/14/2023
eWaiver Link(s)

Organizer:

Hannah McSween

EQOffice@morvenpark.org

703-777-2414 ext.6615
Want to put in some time in the dressage saddle at Morven Park? Make a reservation in one of our competition dressage rings! For a limited time, we are opening outdoor Attwood Arena (Arena 2) for schooling opportunities. With 2 20x60 dressage arenas available in Attwood Arena, each reservation is a private 45 minute session per arena.
Reservations available every 45 minutes 8:00-4:00pm, last reservation at 3:30pm. Pre-registration required.
Complete reservations consist of:
-registration via Strider
-Negative Coggins included with registration
-Current Morven Park Hold Harmless Waiver—please note waivers expire Dec. 31 each year.
-completed payment via Strider

Organizer Notes
No refunds.
JULY 10 8:00AM Dressage Ring 1
$45.00
JULY 10 8:45AM Dressage Ring 1
$45.00
JULY 10 9:30AM Dressage Ring 1
$45.00
JULY 10 10:15AM Dressage Ring 1
$45.00
JULY 10 11:00AM Dressage Ring 1
$45.00
JULY 10 11:45AM Dressage Ring 1
$45.00
JULY 10 12:30PM Dressage Ring 1
$45.00
JULY 10 1:15PM Dressage Ring 1
$45.00
JULY 10 2:00PM Dressage Ring 1
$45.00
JULY 10 2:45PM Dressage Ring 1
$45.00
JULY 10 3:30PM Dressage Ring 1
$45.00
JULY 11 8:00AM Dressage Ring 1
$45.00
JULY 11 8:45AM Dressage Ring 1
$45.00
JULY 11 9:30AM Dressage Ring 1
$45.00
JULY 11 10:15AM Dressage Ring 1
$45.00
JULY 11 11:00AM Dressage Ring 1
$45.00
JULY 11 11:45AM Dressage Ring 1
$45.00
JULY 11 12:30PM Dressage Ring 1
$45.00
JULY 11 1:15PM Dressage Ring 1
$45.00
JULY 11 2:00PM Dressage Ring 1
$45.00
JULY 11 2:45PM Dressage Ring 1
$45.00
JULY 11 3:30PM Dressage Ring 1
$45.00
JULY 12 8:00AM Dressage Ring 1
$45.00
JULY 12 8:45AM Dressage Ring 1
$45.00
JULY 12 9:30AM Dressage Ring 1
$45.00
JULY 12 10:15AM Dressage Ring 1
$45.00
JULY 12 11:00AM Dressage Ring 1
$45.00
JULY 12 11:45AM Dressage Ring 1
$45.00
JULY 12 12:30PM Dressage Ring 1
$45.00
JULY 12 1:15PM Dressage Ring 1
$45.00
JULY 12 2:00PM Dressage Ring 1
$45.00
JULY 12 2:45PM Dressage Ring 1
$45.00
JULY 12 3:30PM Dressage Ring 1
$45.00
JULY 13 8:00AM Dressage Ring 1
$45.00
JULY 13 8:45AM Dressage Ring 1
$45.00
JULY 13 9:30AM Dressage Ring 1
$45.00
JULY 13 10:15AM Dressage Ring 1
$45.00
JULY 13 11:00AM Dressage Ring 1
$45.00
JULY 13 11:45AM Dressage Ring 1
$45.00
JULY 13 12:30PM Dressage Ring 1
$45.00
JULY 13 1:15PM Dressage Ring 1
$45.00
JULY 13 2:00PM Dressage Ring 1
$45.00
JULY 13 2:45PM Dressage Ring 1
$45.00
JULY 13 3:30PM Dressage Ring 1
$45.00
JULY 14 8:00AM Dressage Ring 1
$45.00
JULY 14 8:45AM Dressage Ring 1
$45.00
JULY 14 9:30AM Dressage Ring 1
$45.00
JULY 14 10:15AM Dressage Ring 1
$45.00
JULY 14 11:00AM Dressage Ring 1
$45.00
JULY 14 11:45AM Dressage Ring 1
$45.00
JULY 14 12:30PM Dressage Ring 1
$45.00
JULY 14 1:15PM Dressage Ring 1
$45.00
JULY 14 2:00PM Dressage Ring 1
$45.00
JULY 14 2:45PM Dressage Ring 1
$45.00
JULY 14 3:30PM Dressage Ring 1
$45.00
JULY 10 8:00AM Dressage Ring 2
$45.00
JULY 10 8:45AM Dressage Ring 2
$45.00
JULY 10 9:30AM Dressage Ring 2
$45.00
JULY 10 10:15AM Dressage Ring 2
$45.00
JULY 10 11:00AM Dressage Ring 2
$45.00
JULY 10 11:45AM Dressage Ring 2
$45.00
JULY 10 12:30PM Dressage Ring 2
$45.00
JULY 10 1:15PM Dressage Ring 2
$45.00
JULY 10 2:00PM Dressage Ring 2
$45.00
JULY 10 2:45PM Dressage Ring 2
$45.00
JULY 10 3:30PM Dressage Ring 2
$45.00
JULY 11 8:00AM Dressage Ring 2
$45.00
JULY 11 8:45AM Dressage Ring 2
$45.00
JULY 11 9:30AM Dressage Ring 2
$45.00
JULY 11 10:15AM Dressage Ring 2
$45.00
JULY 11 11:00AM Dressage Ring 2
$45.00
JULY 11 11:45AM Dressage Ring 2
$45.00
JULY 11 12:30PM Dressage Ring 2
$45.00
JULY 11 1:15PM Dressage Ring 2
$45.00
JULY 11 2:00PM Dressage Ring 2
$45.00
JULY 11 2:45PM Dressage Ring 2
$45.00
JULY 11 3:30PM Dressage Ring 2
$45.00
JULY 12 8:00AM Dressage Ring 2
$45.00
JULY 12 8:45AM Dressage Ring 2
$45.00
JULY 12 9:30AM Dressage Ring 2
$45.00
JULY 12 10:15AM Dressage Ring 2
$45.00
JULY 12 11:00AM Dressage Ring 2
$45.00
JULY 12 11:45AM Dressage Ring 2
$45.00
JULY 12 12:30PM Dressage Ring 2
$45.00
JULY 12 1:15PM Dressage Ring 2
$45.00
JULY 12 2:00PM Dressage Ring 2
$45.00
JULY 12 2:45PM Dressage Ring 2
$45.00
JULY 12 3:30PM Dressage Ring 2
$45.00
JULY 13 8:00AM Dressage Ring 2
$45.00
JULY 13 8:45AM Dressage Ring 2
$45.00
JULY 13 9:30AM Dressage Ring 2
$45.00
JULY 13 10:15AM Dressage Ring 2
$45.00
JULY 13 11:00AM Dressage Ring 2
$45.00
JULY 13 11:45AM Dressage Ring 2
$45.00
JULY 13 12:30PM Dressage Ring 2
$45.00
JULY 13 1:15PM Dressage Ring 2
$45.00
JULY 13 2:00PM Dressage Ring 2
$45.00
JULY 13 2:45PM Dressage Ring 2
$45.00
JULY 13 3:30PM Dressage Ring 2
$45.00
JULY 14 8:00AM Dressage Ring 2
$45.00
JULY 14 8:45AM Dressage Ring 2
$45.00
JULY 14 9:30AM Dressage Ring 2
$45.00
JULY 14 10:15AM Dressage Ring 2
$45.00
JULY 14 11:00AM Dressage Ring 2
$45.00
JULY 14 11:45AM Dressage Ring 2
$45.00
JULY 14 12:30PM Dressage Ring 2
$45.00
JULY 14 1:15PM Dressage Ring 2
$45.00
JULY 14 2:00PM Dressage Ring 2
$45.00
JULY 14 2:45PM Dressage Ring 2
$45.00
JULY 14 3:30PM Dressage Ring 2
$45.00
Administrative Information
Ride Time:

Reservation slots dictate ride times. All horses and riders out of Arena 2 no later than 4:30pm.

Trailer Direction:

Morven Park's Equestrian Center is located one mile north of the Town of Leesburg off Route 15 on Route 740 (Tutt Lane).

From Washington, DC:
Take the Dulles Toll Road/Greenway (VA-267) West approximately 28 miles. Take exit 1B for US-15 N/VA-7 East toward Frederick, Md. Continue NORTH on US-15 N Bypass for about 3.5 miles. Following the light at Battlefield Parkway, the north-bound lanes will split from the south-bound lanes. Just after they merge again, enter the left turn lane to turn LEFT onto Tutt Lane (Route 740). Continue .5 mile to the Morven Park entrance on the LEFT.Option from VA-7/Leesburg Pike:
Take VA-7 WEST toward Leesburg, exiting at US-15 N/Leesburg Bypass. Travel NORTH and continue to follow directions above.From points WEST:
Take VA-7 EAST to US-15 N/Leesburg Bypass NORTH or take I-66 EAST or Route 50 EAST to US-15 NORTH. Take US-15/Leesburg Bypass NORTH. Following the light at Battlefield Parkway, the north-bound lanes will split from the south-bound lanes. Just after they merge again, enter the left turn lane to turn LEFT onto Tutt Lane (Route 740). Continue .5 mile to the Morven Park entrance on the LEFT.From points NORTH:
Take US-15 SOUTH toward Leesburg. After the light at White's Ferry Road/Raspberry Falls, watch for the third road on the right, Tutt Lane (Route 740). You will turn onto Tutt Lane just before the US-15 Business and US-15 Bypass split. Continue .5 mile to the Morven Park entrance on the left.From Warrenton, Va., and points south:
From US-15 N/US-29 North, take James Madison Hwy./US-15 approximately 22 miles. At VA-7, turn right and continue on the ramp onto US-15 Bypass NORTH. Continue on US-15/Leesburg Bypass NORTH. Following the light at Battlefield Parkway, the north-bound lanes will split from the south-bound lanes. Just after they merge again, enter the left turn lane to turn LEFT onto Tutt Lane (Route 740). Continue .5 mile to the Morven Park entrance on the LEFT
Change Policy:

Changes are not permitted.

Refund Policy:

No refunds.

Entry Option(s) Secure Spot: Pay in full via STRIDER