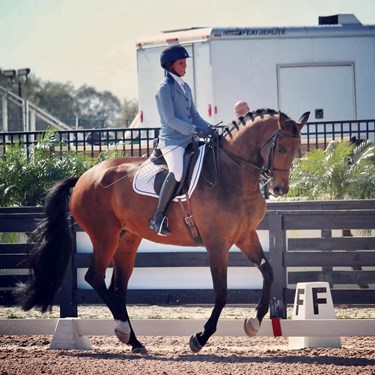 The Rider Project: Clinic with Lisa El Ramey "S"

4/23/2021 − 4/25/2021
Late entries allowed until 4/22/2021
Organizer:

Megan Irby

mirby2@yahoo.com

5402476344
April 24 and 25
Lisa El Ramey "The Rider Project"
Clinic is focused on rider position and enhanced communication to create a harmonious relationship with your horse and make your performance shine. Clinic has mounted and unmounted sessions. Stabling is available on site and local hotels are close in proximity.
Fri Evening Lecture w/potluck dinner at 5:45, will go over concepts and terminology to be worked on over the weekend.
FEE: VADAF members $100/ride, non-members $150/ride.
Auditors: Free for VADAF members, $25 for non-members (bring your own chair).
Stalls available for $10/day bring your own buckets and bedding.
Location: Del Dios Way Equestrian Center 13310 Del Dios Way Culpeper, VA 22701
Organizer Notes
Refunds will be issued in full if the rider is able to find a replacement for their ride.
VADAF Member per day
$100.00
VADAF Non-Member per day
$150.00
VADAF Member Auditor per day
FREE
VADAF Non-Member Auditor per day
$25.00
Administrative Information
Ride Time:

Ride times will be emailed the Wednesday prior to the clinic.

Trailer Direction:

For larger trailers and for ease of turning back out onto Rt 522, it is easiest to enter/exit the farm from Whole Hearts Way. Be aware this is a gravel road and may or may not have been regraded since the winter. If you are traveling south on Rt 522, you will pass Del Dios Way and Commonwealth Park. The next road on your left passed the Commonwealth Park entrance is Whole Hearts Way. If you are approaching on northbound 522, Whole Hearts Way is just beyond a small ice cream stand on the left and before the entrance to Commonwealth Park. Once you turn on Whole Hearts Way, proceed slowly and watch for pot holes. You will follow the road all the way around and to the left where you will come onto the property just behind the indoor arena. Look for the parking signs!

Change Policy:

Changes are permitted before registration closes.

Refund Policy:

No refunds.

Entry Option(s) Secure Spot: Pay in full via STRIDER