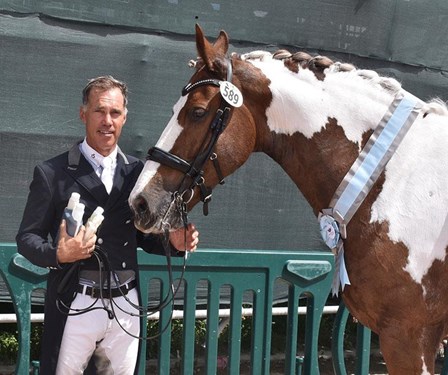 March 25th-26th Jim Koford Clinic

3/25/2022 − 3/27/2022
Organizer:

Veronica Bill

veronica@wyndham-oaks.com

301-775-3630
We are so excited to host Jim Koford March 25th-27th!
***The clinic is sold out- stay tuned for future clinics!***
Overnight stabling or day stall available for an additional fee. Please contact Veronica at veronica@wyndham-oaks.com for question or more information.
2022 Clinic Policy

For 2022, we are implementing a new payment procedure for all individuals riding in our clinics with Jim Koford. In order to secure a spot in a clinic, participants must pre-pay for the clinic. Once we have received payment for the clinic your spot will be secured. If a rider has to cancel their ride and we can fill the spot in the clinic they will receive a refund minus $20 fee. Alternatively, the rider can fill the spot themselves with someone of their choosing for no fee and be paid directly from the alternate rider. If the rider is able to fill the spot, please notify Wyndham Oaks so we can update the clinic schedule.
Auditors do not need to pre-register and they can pay on the day of the clinic with cash or a check. Participants can bring one guest with them to audit for free.
Participants have two options for paying for the clinic. They can mail a check made out to Wyndham Oaks or for pay via paypal (friends and family).

Mail checks to: Paypal:wyndhamoaks@gmail.com
Wyndham Oaks
℅ Veronica Bill
19301 Bucklodge Rd
Boyds, MD 20841
Organizer Notes
1 Day Clinic
Instructor: Jim Koford
$170.00
Deposit to Hold Spot

$170.00
Tests/Experience
1 Day Clinic Levels
Introductory
Beginner Novice
Training
Preliminary
Advanced
Administrative Information
Ride Time:

Ride times will be sent out to all riders no later than one week before the ride. Once the schedule is full, we will also send out rides to confirm ride times.

Trailer Direction: Feel free to park your trailer across from the main barn or down by hay barn. The easiest place to turn around is down past the outdoor arena by our second larger barn.

Change Policy:

Changes are permitted up to 20 day(s) before registration closes.

Refund Policy:

Refunds are permitted up to 20 day(s) before activity begins.

Entry Option(s) Secure Spot: Pay in full via STRIDER Pay Deposit via STRIDER and the remainder by check Reserve Spot Via STRIDER, Mail Check