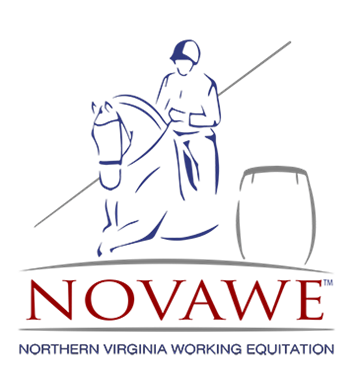 NOVAWE Movin' On Up Novice Clinic & EOH Show

10/23/2021
Organizer:

Biddie Lowry

novawe.blowry@gmail.com

(803)487-2044
NOVAWE announces this unique opportunity to participate in an all day Working Equitation (WE) Novice clinic and Ease of Handling (EOH) Show where you will receive alot of individual instruction! This clinic is open to anyone that has done a WE competition course at any level or completed a WE course practice day and is thinking about moving up to a Novice level or is currently a Novice rider.
Clinician for Novice A Riders and Judge for the EOH show: Allison Reed
Clinician for Novice B Riders: Stephanie Jennings
Both Allison Reed and Stephanie Jennings are well known in the Northern Virginia area for their expertise in teaching WE.
Your clinic fee below includes:
2 hours of obstacle practice on a full competition course
45 minutes of a Guided Course Walk - Receive guidance on navigation, course lines, and strategies from your clinician
45 minutes - Spend your lunch time with both clinicians and a USAWE Provisional Technical Delegate to ask questions about Working Equitation, showing, or course strategies.
EOH Trial - Each rider will navigate the course and be scored by the judge. You will receive a score sheet and a final score.
This clinic is only open to 8 riders: two groups of 4 riders each. The clinic will be outside at the upper ring at Frying Pan Farm Park (FPFP) and will run from 9 am to 3 pm.
If you want to purchase a lunch ticket, please select that option. Lunch will be a sub sandwich, chips, water, and a cookie. NOVAWE will contact you about the choice of sandwich closer to the event.
-Auditors are welcome (no charge).
**NOVAWE members receive advance registration notification to all NOVAWE events.**
Organizer Notes
If you see "WAITLIST", then that means that all of the allocated slots have been taken. Please email Biddie Lowry to be put on the Wait List.
No refunds after Closing Day of Oct 17, 2021.
Please email Biddie Lowry your current Coggins or upload your horse's current Coggins (within one year of clinic date) to this site. Bring printed and signed releases for NOVAWE and for FPFP to the event if you have not signed these for 2021.
If you are traveling from out-of-state, FPFP requires that you show the organizer a Certificate of Health upon arrival and have a copy of your Coggins with you.
Administrative Information
Ride Time:

You will receive an email from the organizer on Wednesday before the event with any additional details.

Trailer Direction:

Once you enter FPFP, follow the road that goes behind the barn to find parking on a circle. Large rigs will need to park in the parking lot that is below the barn. A map will be sent to participants before the event.

Change Policy:

Changes are permitted before registration closes.

Refund Policy:

Refunds are permitted before registration closes.

Entry Option(s) Secure Spot: Pay in full via STRIDER