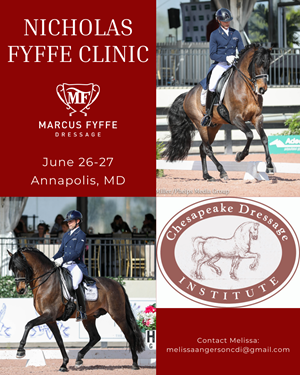 Nicholas Fyffe Dressage Clinic

6/10/2022 − 6/12/2022
Organizer:

Melissa Angerson

melissaangersonCDI@gmail.com

443-875-2063
Nicholas Fyffe offers a depth of experience to his clients from starting young horses to training for international competition. He trained extensively in Germany with top international riders. Nicholas has qualified multiple horses for the World Young Horse Championships and has shown six horses to Grand Prix, including Fiero HGF, a PRE stallion he started as a three year old.
For more information on Nicholas Fyffe please check out his website:
www.marcusfyffedressage.com
And his articles on Dressage Today:
https://dressagetoday.com/tag/articles-with-nicholas-fyffe
Organizer Notes
No refunds.
Prepayment required for riders.
Auditors welcome the day of the clinic without prepayment.
Auditors that want lunch must prepay **please see lunch menu attachment
Email MelissaangersonCDI@gmail.com to sign up for auditing with lunch and to ride in the clinic.
Please Mail Checks made out to Chesapeake Dressage Institute to:
Shari Demino
2630 Mas Que Farm Road
Annapolis, MD 21403

1 Day Clinic
Instructor: Nicholas Fyffe
$285.00
2 Day Clinic
Instructor: Nicholas Fyffe
$285.00
3 Day Clinic
Instructor: Nicholas Fyffe
$285.00
Day Stall

$25.00

Full Stabling

$45.00

Shavings

$8.00

Food

$20.00

Photo/Video Option

$25.00
Tests/Experience
1 Day Clinic Levels
Training Level Dressage
1st Level Dressage
2nd Level Dressage
3rd Level Dressage
4th Level Dressage
FEI Dressage
2 Day Clinic Levels
Training Level Dressage
1st Level Dressage
2nd Level Dressage
3rd Level Dressage
4th Level Dressage
FEI Dressage
3 Day Clinic Levels
Training Level Dressage
1st Level Dressage
2nd Level Dressage
3rd Level Dressage
4th Level Dressage
FEI Dressage
Administrative Information
Ride Time:

Nicholas Fyffe Ride Times for June 10-12


Friday (PM only): Saturday: Sunday:
5:30 Hallie 9:00 Hallie (Day) 9:00 Hallie (Day)
6:15 Maureen 9:45 Lara 9:45 Lara
7:00 Marilou 10:30 Hallie (Day) 10:30 Hallie (Day)
7:45 Open 11:15 Paula 11:15 Paula
12:00 Lunch 12:00 Lunch
12:45 Marilou 12:45 Marilou
1:30 Sarah 1:30 Maureen
2:15 Melissa 2:15 Melissa
3:00 Kim 3:00 Kim
3:45 Open 3:45 Open

Trailer Direction:

Please park in the grass in front of the barn. Please pull up close to the gates. All gates open automatically.

Change Policy:

Changes are not permitted.

Refund Policy:

No refunds.

Entry Option(s) Reserve Spot Via STRIDER, Mail Check