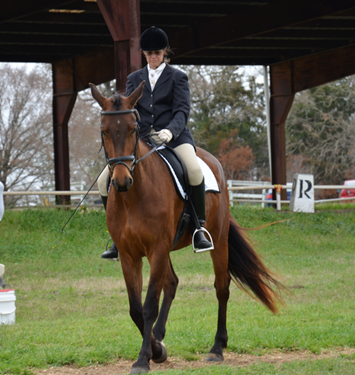 BACH Schooling Show 2

11/21/2020
Late entries allowed until 11/19/2020
Organizer:

Emily Mullins

bachdressagebcs@gmail.com

(979) 324-7419
Welcome to the second show of BACH's 2020 Schooling Series! The BACH Schooling Series provides a safe, fun, and low-key environment for riders of all levels to enjoy!
Attendance at 1 or more shows, totaling 2 tests across the year will qualify BACH members for end of the year points and awards! For qualification standards, please see: https://bachdressage.org/awardsprogram/
BACH Schooling shows are also recognized by HDS and count towards their End of Year Schooling Show Awards! To be eligible for HDS High Point Schooling Show Awards, and for scores to count towards their End of Year Awards Program, you must be a current member. Any individual may become an HDS member AT THE SHOW by completing the HDS Membership application and paying the membership fee. Application can be found on the HDS website: http://houstondressagesociety.org/
Judge: Becky Brown "L"
Organizer Notes
The prize list is available at bachdressage.org.
By entering the show, riders are agreeing to the following regulations related to the COVID-19 pandemic:
1. Face masks must be worn by all attendees AT ALL TIMES while on the show grounds unless mounted on a horse.
2. Only one non-competitor (groom/trainer) is permitted for each rider with the exception of junior/young riders who can also bring a single parent/guardian.
3. Please self-assess for an elevated temperature (greater than 99.5 F), shortness of breath, coughing, and other signs of COVID-19 prior to coming to the show grounds. If you have any symptoms of COVID-19, please do not come to the show. If you have been exposed to anyone with COVID-19 within the 14 days prior to the show (with the exception of medical personnel exposed in the course of their work responsibilities while wearing properly fitted and approved PPE), please do not attend the show.
4. Social distancing (6 ft) must be maintained at all times when you are around people who are not from the same household.
5. The above rules are not negotiable. If you cannot adhere to these rules, please wait to attend our shows until these rules are no longer necessary for the health and safety of our participants.
6. To encourage rule compliance, if between the closing date and the competition date you develop COVID-19 symptoms, your entire show fee will be refunded. If you need to cancel due to COVID-19 symptoms, please email BACH at bachdressagebcs@gmail.com or call Emily Mullins at (979) 324-7419.
All entries must be complete for consideration. Liability waivers and Coggins tests MUST be uploaded via this website or emailed to the bachdressagebcs@gmail.com by November 17, 2020 at 5 pm (CST) to be considered complete.
Under the fees, mark the division you wish to compete in (Jr/YR, adult amateur, or open). This will apply to all classes entered.
Refunds for cancellations prior to closing date (Tuesday before the show) will have class fees refunded. Refunds for cancellations after closing date and before noon the day before the show (Friday), class fees will be refunded only if ride times can be filled. No refunds will be issued for cancellations after noon the day before the show. The office fee is not refundable.
Warm-up will be held outdoors on grass. The competition arena is a covered arena. Riders may trailer in the day before the show to school.
A limited number of stalls are available. Day stalls are available for $18 per day (not including shavings). Overnight stalls are available for $25 per night (not including shavings).
Concessions will be available on site and will be provided by the Brazos Pony Club.
2019 USDF Intro Test A (BACH Member)
$15.00
2019 USDF Intro Test A (non-BACH Member)
$20.00
2019 USDF Intro Test B (BACH Member)
$15.00
2019 USDF Intro Test B (non-BACH Member)
$20.00
2019 USDF Intro Test C (BACH Member)
$15.00
2019 USDF Intro Test C (non-BACH Member)
$20.00
USEF 2018 BN Test A (BACH member)
$15.00
USEF 2018 BN Test A (non-BACH member)
$20.00
USEF 2018 Novice Test A (BACH member)
$15.00
USEF 2018 Novice Test A (non-BACH member)
$20.00
USEF 2018 Training Test A (BACH member)
$15.00
USEF 2018 Training Test A (non-BACH member)
$20.00
USEF 2018 Prelim Test A (BACH member)
$15.00
USEF 2018 Prelim Test A (non-BACH member)
$20.00
2019 USEF Training Level Test 1 (BACH member)
$15.00
2019 USEF Training Level Test 1 (non-BACH member)
$20.00
2019 USEF Training Level Test 2 (BACH member)
$15.00
2019 USEF Training Level Test 2 (non-BACH member)
$20.00
2019 USEF Training Level Test 3 (BACH member)
$15.00
2019 USEF Training Level Test 3 (non-BACH member)
$20.00
2019 USEF First Level Test 1 (BACH member)
$15.00
2019 USEF First Level Test 1 (non-BACH member)
$20.00
2019 USEF First Level Test 2 (BACH member)
$15.00
2019 USEF First Level Test 2 (non-BACH member)
$20.00
2019 USEF First Level Test 3 (BACH member)
$15.00
2019 USEF First Level Test 3 (non-BACH member)
$20.00
2019 USEF Second Level Test 1 (BACH member)
$15.00
2019 USEF Second Level Test 1 (non-BACH member)
$20.00
2019 USEF Second Level Test 2 (BACH member)
$15.00
2019 USEF Second Level Test 2 (non-BACH member)
$20.00
2019 USEF Second Level Test 3 (BACH member)
$15.00
2019 USEF Second Level Test 3 (non-BACH member)
$20.00
2019 USEF Third Level Test 1 (BACH member)
$15.00
2019 USEF Third Level Test 1 (non-BACH member)
$20.00
2019 USEF Third Level Test 2 (BACH member)
$15.00
2019 USEF Third Level Test 2 (non-BACH member)
$20.00
2019 USEF Third Level Test 3 (BACH member)
$15.00
2019 USEF Third Level Test 3 (non-BACH member)
$20.00
2019 USEF Fourth Level Test 1 (BACH member)
$15.00
2019 USEF Fourth Level Test 1 (non-BACH member)
$20.00
2019 USEF Fourth Level Test 2 (BACH member)
$15.00
2019 USEF Fourth Level Test 2 (non-BACH member)
$20.00
2019 USEF Fourth Level Test 3 (BACH member)
$15.00
2019 USEF Fourth Level Test 3 (non-BACH member)
$20.00
USDF Training Level Freestyle (BACH member)
$15.00
USDF Training Level Freestyle (non-BACH member)
$20.00
USDF First Level Freestyle (BACH member)
$15.00
USDF First Level Freestyle (non-BACH member)
$20.00
USDF Second Level Freestyle (BACH member)
$15.00
USDF Second Level Freestyle (non-BACH member)
$20.00
USDF Third Level Freestyle (BACH member)
$15.00
USDF Third Level Freestyle (non-BACH member)
$20.00
USDF Fourth Level Freestyle (BACH member)
$15.00
USDF Fourth Level Freestyle (non-BACH member)
$20.00
USEF Western Dressage Intro Test 1 (BACH member)
$15.00
USEF Western Dressage Intro Test 1 (non-BACH member)
$20.00
USEF Western Dressage Intro Test 2 (BACH member)
$15.00
USEF Western Dressage Intro Test 2 (non-BACH member)
$20.00
USEF Western Dressage Intro Test 3 (BACH member)
$15.00
USEF Western Dressage Intro Test 3 (non-BACH member)
$20.00
USEF Western Dressage Intro Test 4 (BACH member)
$15.00
USEF Western Dressage Intro Test 4 (non-BACH member)
$20.00
USEF Western Dressage Basic Test 1 (BACH member)
$15.00
USEF Western Dressage Basic Test 1 (non-BACH member)
$20.00
USEF Western Dressage Basic Test 2 (BACH member)
$15.00
USEF Western Dressage Basic Test 2 (non-BACH member)
$20.00
USEF Western Dressage Basic Test 3 (BACH member)
$15.00
USEF Western Dressage Basic Test 3 (non-BACH member)
$20.00
USEF Western Dressage Basic Test 4 (BACH member)
$15.00
USEF Western Dressage Basic Test 4 (non-BACH member)
$20.00
JR/YR Equitation walk-trot (BACH member)
$15.00
JR/YR Equitation walk-trot (non-BACH member)
$20.00
JR/YR Equitation walk-trot-canter (BACH member)
$15.00
JR/YR Equitation walk-trot-canter (non-BACH member)
$20.00
AA Equitation walk-trot-canter (BACH member)
$15.00
AA Equitation walk-trot-canter (non-BACH member)
$20.00
HDS Prix Caprilli 1 (BACH member)
$15.00
HDS Prix Caprilli 1 (non-BACH member)
$20.00
HDS Prix Caprilli 2 (BACH member)
$15.00
HDS Prix Caprilli 2 (non-BACH member)
$20.00
HDS Prix Caprilli 3 (BACH member)
$15.00
HDS Prix Caprilli 3 (non-BACH member)
$20.00
WDAA Level 1 Test 1 (BACH member)
$15.00
WDAA Level 1 Test 1 (non-BACH member)
$20.00
WDAA Level 1 Test 2 (BACH member)
$15.00
WDAA Level 1 Test 2 (non-BACH member)
$20.00
WDAA Level 1 Test 3 (BACH member)
$15.00
WDAA Level 1 Test 3 (non-BACH member)
$20.00
WDAA Level 1 Test 4 (BACH member)
$15.00
WDAA Level 1 Test 4 (non-BACH member)
$20.00
WDAA Level 2 Test 1 (BACH member)
$15.00
WDAA Level 2 Test 1 (non-BACH member)
$20.00
WDAA Level 2 Test 2 (BACH member)
$15.00
WDAA Level 2 Test 2 (non-BACH member)
$20.00
WDAA Level 2 Test 3 (BACH member)
$15.00
WDAA Level 2 Test 3 (non-BACH member)
$20.00
WDAA Level 2 Test 4 (BACH member)
$15.00
WDAA Level 2 Test 4 (non-BACH member)
$20.00
WDAA Level 3 Test 1 (BACH member)
$15.00
WDAA Level 3 Test 1 (non-BACH member)
$20.00
WDAA Level 3 Test 2 (BACH member)
$15.00
WDAA Level 3 Test 2 (non-BACH member)
$20.00
WDAA Level 3 Test 3 (BACH member)
$15.00
WDAA Level 3 Test 3 (non-BACH member)
$20.00
WDAA Level 3 Test 4 (BACH member)
$15.00
WDAA Level 3 Test 4 (non-BACH member)
$20.00
2019 WDAA Freestyle Intro (BACH member)
$15.00
2019 WDAA Freestyle Intro (non-BACH member)
$20.00
2019 WDAA Freestyle Basic (BACH member)
$15.00
2019 WDAA Freestyle Basic (non-BACH member)
$20.00
2019 WDAA Freestyle Level 1 (BACH member)
$15.00
2019 WDAA Freestyle Level 1 (non-BACH member)
$20.00
2019 WDAA Freestyle Level 2 (BACH member)
$15.00
2019 WDAA Freestyle Level 2 (non-BACH member)
$20.00
2019 WDAA Freestyle Level 3 (BACH member)
$15.00
2019 WDAA Freestyle Level 3 (non-BACH member)
$20.00
FEI Test of Choice (BACH member)
$15.00
FEI Test of Choice (non-BACH member)
$20.00
Office Fee (per entry)- REQUIRED

$20.00

Day Stall

$18.00

Overnight Stall

$25.00

Grounds Fee

$10.00

Change Fee

$10.00

Select Division: Jr/YR

FREE

Select Division: Adult Amateur

FREE

Select Division: Open

FREE
Administrative Information
Ride Time:

Ride times will be emailed to riders by Friday afternoon (November 20th).

Trailer Direction:

Competitors will check-in at the gate, where they will receive their number and schedule.

Change Policy:

Changes are permitted up to 2 day(s) before registration closes.

Refund Policy:

Refunds are permitted before registration closes.

Entry Option(s) Secure Spot: Pay in full via STRIDER