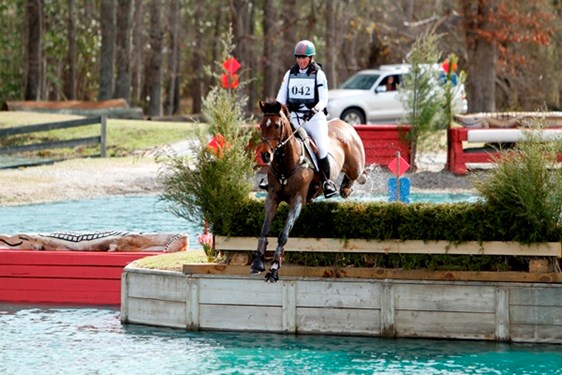 WoW Camp to Benefit Area II YRAP feat. Holly Hudspeth | Youth & Adult Riders Welcome
6/15/2019 − 6/18/2019

Open: 2/18/2019

Close: 5/31/2019

Late entries allowed until 6/8/2019

Waitlist Offered
Organizer: Chris Donovan
This camp is structured to take advantage of the War Horse Series set-up. We expect to tailor this opportunity to YOUR needs. This camp is for the benefit of the Area 2 Young Rider Advancement Program; non-members and Adult Riders are also welcome to attend as space permits.

This is our third year of YRAP camp in North Carolina. Camp will run in conjunction with the War Horse Series in an order to defray some of the facility costs. This will also be a Prep Session for the NAYC. As with our other camps, we work hard to tailor the program to meet your individual needs – so please be assertive in expressing your desires. The Carolina Horse Park has generously offered to host us over the 4 days. Please contact Chris Donovan via email cdonovan03@gmail.com or at 703-261-3377 with any questions.
Holly Hudspeth has competed multiple times at the Rolex Kentucky CCI****, finished 9th at the 2003 Pan American Games, and was the previous coach of the Area 8 Young Riders team. Holly has produced multiple horses and riders through the upper levels and has trained out of Quail Roost Farm for the past 8 years. Additional instructors will be added should entries warrant on specific days. Instructors for the YRAP camp will include riders with experience through the FEI.
You can pick and choose to tailor this camp to YOUR desires. So please list your desires for each day if you choose to not do the full camp experience there is ala carte pricing below.
Full Camp includes:
Saturday: Coaching during your XC and Show Jumping Schooling
Sunday: Course walks and coaching while you compete at the War Horse Event
Monday: Dressage and Show Jumping Equitation and/or XC sessions
Tuesday: Dressage and Show Jumping and/or XC sessions
DON'T FORGET TO SEND YOUR WAR HORSE ENTRY AND SCHOOLING to the Carolina Horse Park with separate check!
Brief summary of camp's details:
1. Entry Fee:
• Fee is $600 for all sessions (over the 4 day).
• Alternatively, riders may pay ala carte:
o $85 per session
o $75 per day facility fees for Monday and Tuesday sessions
• Entry does NOT include the War Horse entry, schooling, or weekend stabling fees
• $100 late fee if entered after May 31
• Call Chris to discuss options and costs for second horse.
• Checks for the Southern WoW camp should be made payable to USEA Area 2 YRAP
• Chris Donovan, YRAP Coordinator for Area 2, 13031 Furnace Mountain Rd , Lovettsville, VA 20180
• You will be encouraged to join the USEA Young Rider or Adult Rider Program member for 2019 if you are not a
member already.
Organizer Notes
Chris Donovan

cdonovan03@gmail.com
Full Camp Participant (4 Days)
$600.00
Tuesday AM Session
$85.00
Tuesday PM Session
$85.00
Saturday Coaching at Schooling
$85.00
Sunday Coaching w/Competing
$85.00
Late Fee

$100.00

Facility Fee MONDAY Session

$75.00

Facility Fee TUESDAY Session

$75.00
Administrative Information
Trailer Direction: See http://carolinahorsepark.com/index.php site for specific details on directions
Change Policy:

Changes are permitted before registration closes.

Refund Policy:

Refunds are permitted before registration closes.

Entry Option(s) Secure Spot: Pay in full via STRIDER